About Company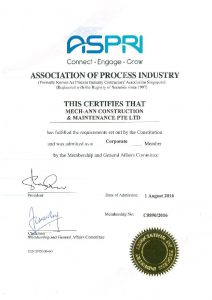 8 years of construction experience in Singapore
As a leading general contractor in Singapore. MECH-ANN Construction has been providing construction services to a long list of new and repeat clients for decades.
The company also provides pre-construction services and has acted as a key member on many recent public-private partnership projects. Reflecting its broad scope, MECH-ANN's clients include leading firms in the commercial, institutional, retail, multi-tenant residential, industrial, mining, water and wastewater, energy and civil sectors. MECH-ANN Construction was founded in EARLY 2000s
Our commitment to safe production
A construction site is a continuously changing workplace with continuously changing hazards and risks. Keeping everyone safe requires the ability and commitment to not only respond to those changing conditions, but to proactively identify potential risks and actively work to eliminate or control them. It is a journey, not a destination.
At MECH-ANN we recognize that the creation of a workplace culture in which we are all committed to ensuring that everyone goes home at the end of the day just as healthy as when they arrived is critical to our success. It is how we work.
The term Safe Production embodies this approach and reflects our belief that worker safety and efficient and effective production are complementary rather than competing means to achieving and sustaining a positive work environment and successful business outcomes from which we all benefit.
It's not always easy. Ours is an industry in which issues and conditions arise daily that may tempt us to focus on one aspect of the business to the detriment of the other. Expediency, like complacency, can lead to decisions that prove detrimental to both worker safety and operational effectiveness.
Some prefer to follow. At Mach-Ann Construction, we prefer to lead – in terms of client-focused M&E solutions as well as capabilities and knowledge in technological innovation. We aspire to bring you a solution that can add value to your business in more ways than one.
As one of the leading M&E engineering companies in Singapore today, we pride ourselves on who we are – a dynamic company who will boldly delve into new challenges in search of brighter solutions for you.
Our commitment to our customers is to deliver robust engineering solutions to solve even the most complex M&E challenges.
Our commitment to our staff is to be a second home to our staff, where there are equal opportunities for growth and development.
Our commitment to our company is to be the industry benchmark for professionalism and expertise in the M&E industry.
Forming the cornerstones of our commitment are the following core values:
Positivity: Taking pride in our work, staying dedicated and having a positive outlook towards conquering our challenges.
Work Smart:Delivering our work promptly and efficiently, to achieve effective results with precision – without compromising on safety.
Community:
Working as a team – not because we have to but because we want to – and extending our community spirit to include our many partners, who play an integral part in our success.
Integrity: Exercising the same professional integrity with our customers, suppliers and partners.
Across many of our sectors Mech-ann delivers excellence in construction and construction management for our customers, enhancing the quality and value of construction projects.
The end product in construction depends on the quality of materials, construction practices, and the level of care and quality control in the construction process. The Construction Support Services offered by Mech-Ann are directed at enhancing the quality and value of construction projects.
We provide dependable construction services from office locations throughout the world. Our approach to providing "World skills at your doorstep" allows clients to benefit from a complete life-cycle of services under one roof.
Our construction management professionals focus on providing leading practices for project management, construction techniques, subcontractor management, health & safety, quality assurance and quality control, and other issues affecting construction projects. We provide front-end regulatory and design consulting as well as engineering and program construction management services
Building Management made manageable
Our insightful building technologies are designed to listen to what a building is saying about its condition. They collect and analyze data and then provide insights on how to improve your building's efficiency and productivity.
Keep air moving efficiently
By driving the efficient flow of air through the entire building, our air systems products deliver healthy, comfortable and visually appealing environments that increase work productivity and job satisfaction.
Electrical
PEPL has always been to deliver the distinct core solution for various multi disciplinary engineering services. We are specialized in executing Construction to Maintenance in Electrical, Instrumentation, Fire Alarm, CCTV, Card Key, Networking, Public Addressing, Fence Intrusion Detection and Tubular scaffolding systems. We are an established EPCM Contractor in Singapore executing Engineering, Procurement, Construction and Maintenance for various industries.
Having established as a multi-functional contractor, we have executed a lot of Maintenance and Project works for Oil & Petrochemical Industry, Commercial Buildings and SMRT. We have dedicated teams for specialized services to be able to deliver standard services to the clients particularly during Break-in's and Turn around. Our wide range of services includes Cable ladder/Tray installation, Cabling, Glanding/Termination, Pre-calibration, Installation, Tubing, Loop check, Testing and Commissioning (engaging third parties including Testing team and PE). We emphasize on following safety procedures and our workforce is trained in such a way to be able to deliver quality services with safety compliance at all times.
Instrumentation
Transmitters (Temperature, Pressure, Flow & Level)
Indicators (Temperature, Pressure, Flow & Level)
Gauges (Temperature, Pressure & Level)
Control Valves, Solenoid valves, PSVs
Air lines and Hot pipes
Tubing (Metric and Imperial)
Analyzers (Gas Chromatograph, O2, H2 & Moisture)
DCS, ESD, PLC, HIPPS Systems in Control room & Satellite Instrument House
Loop checks (Hot & Cold)
Commissioning of loops
Scaffolding
Mobile Scaffold
Hanging Scaffold
Independent Scaffold
Networking
CCTV Security Cameras
Fire Alarm System (Conventional & Addressable)
FM 200 System
Card Access security systems
AFC System, GTM & TUM Installation in MRT
Fence Intrusion Detection System
Ethernet Cat 5 / 5e / 6 Networking
Fibre Optic Cabling and Patch Panel installation
Testing and Commissioning
Successfully delivering projects for new and repeat clients
As a national general contractor  MECH-ANN embraces the diverse Singapore construction marketplace with a wide variety of delivery models and services. In each region, our skilled professionals have developed a keen understanding of the complexities common to the markets they serve - this has cultivated our talents to effectively manage even the most complex projects, making us one of Singapore's leading contractors.
Petroleum industry comprises global processes of exploration, extraction, refining, transporting (often by oil tankers and pipelines) as well as meeting the marketing demands of petroleum products. The largest volume products of industry includes fuel oil and gasoline (petrol)
Our recruiting experience including providing staff for all sectors including:
Upstream (exploration, development and production of crude oil or natural gas)
Oil Industry Job Recruiters, Job Placement Firms
Marine
Downstream (oil tankers, refiners, retailers, and consumers)
Pipeline
Service and Supply
MECHANICAL ENGINEERING SERVICES
Our Mechanical Engineering services include the supply, installation, testing, commissioning, maintenance and repair of mechanical equipment such as ACMV equipment, Plumbing and Sanitary equipment, and FP equipment.
These mechanical equipment may function individually or as a system. Our role is to install the individual components and to ensure that each individual component is able to function as an integrated system.
Air-Conditioners and Ventilation Systems (ACMV)
ACMV systems are installed in buildings to ensure proper air circulation; prevent and reduce energy wastage; and minimise the environmental impact from the building. They include cooling towers, chillers and piping, air handling units and energy management systems.
Plumbing and Sanitary
We construct and/or supply piping systems which comprise pipes, mechanical valves and pumps. Our services include linking pipes of various sizes, and installing mechanical valves and pumps in the pipes.
Fire Protection Systems (FP)
Our services include the supply, installation, testing, commissioning and maintenance of FP systems, which include fire hydrants, hose-reel systems, dry/wet riser systems and alarm systems. Our FP systems are extended to the oil and gas refineries, such as foam systems. We also integrate our FP systems with the building automation system, which includes access doors, mechanical ventilation and lifts.
ELECTRICAL ENGINEERING SERVICES
Our Electrical Engineering services include the supply, installation, testing, commissioning, and maintenance of ELV, LV and HV electrical systems, instrumentation and control systems.
SYSTEMS INTEGRATION
At Mech-ANN, we have the capabilities to integrate both the electrical and mechanical systems into one, and to ensure that both systems function together seamlessly.
PROJECT MANAGEMENT
We are one of the few in the industry to offer this value-added service that goes beyond the provision of a quality solution. We also coordinate the work of our team of multi-disciplinary experts from both the internal and external sources, so that our clients can concentrate on their core business. Backed by decades of experience, we are confident of completing our projects – whatever the size may be – on time, every time, while maintaining our high quality standards.